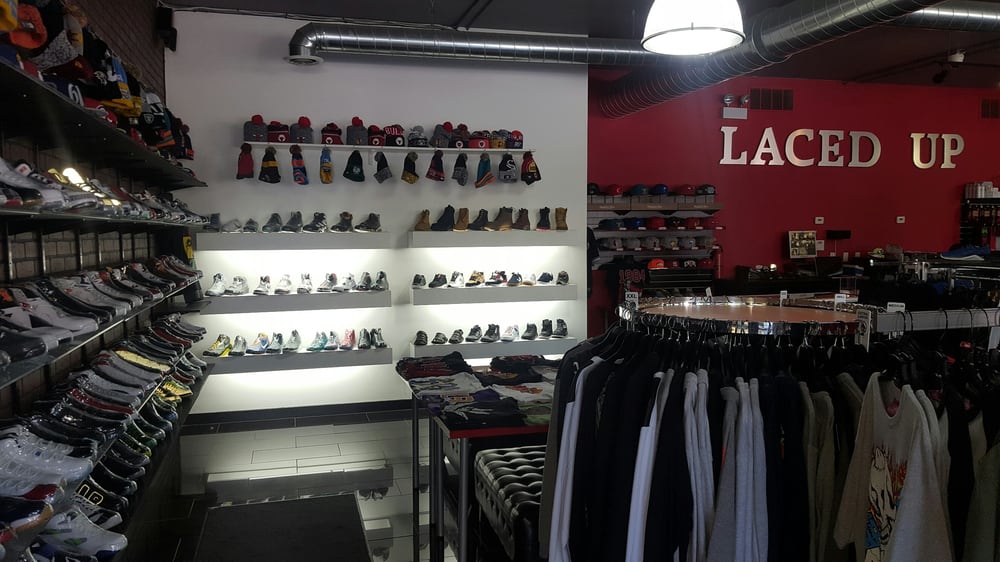 Recently, I had the chance to visit this amazing basketball shoe store in Chicago called Laced Up as I was looking for some artful designs and cool casual shoes. My friend referred me to visit the store as they have some really fascinating designs in the sports shoe category. So, I decided to have a look and search for the sports shoes I wanted.
First of all the shoe store is quite grand with a massive collection of sports shoes. Upon entering the store, I had to look from where to start as the shoe racks were spread across the store walls all around. So I decided to first take a round of the store and explore what variety they have to offer.
Frankly speaking, I was totally clueless what type of shoes I am looking for as I was not aware of various shoe categories. Looking at my cluelessness, one of their salesperson approached and cordially greeted me. Then, I nervously told him that I am looking for some stylish yet sporty shoes but I am not sure what kind would be best for me. So, he simply smiled and said: "That's not a problem, let me show you some of our best collections".
Then, he guided me through their various shoe categories like athletic shoes, sports or casual wear, general fashion shoes that are quite popular among youngsters. One style that caught my attention was their Air Jordan Chicago sports shoes.
They were quite aesthetic in their looks, yet they fulfill the sporty action you wish to endure while wearing a sneaker shoe. Their sneakers category was quite diverse as there was extensive range of color combinations along with sensuous styling. It made difficult for me to shortlist a few designs to try.
Meanwhile, the salesperson asked me for what purpose do you want sports shoes. So I told him that I am a casual wearer and I have to usually walk a lot since I travel through public transport hence, I need shoes that go with my overall appearance which is usually casual and also offer me comfort in walking or sometimes running. My feet are a bit slimmer in width and long in length so I always have difficulty in finding the best sports shoe. I needed some cushioning to fit my feet shape easily and give me easy flow in walking and also I wanted shoes for long run use.
Then he showed me two to three shoe styles from their Air Jordan Chicago collection.
1) AIR JORDAN 10 RETRO "DOUBLE NICKEL"
2) AIR JORDAN 10 RETRO "STEALTH 2012″
3) AIR JORDAN 1 RETRO HIGH OG "CHICAGO"
I tried all three and walked into the store to see their comfort level. All three had amazing design. Only the double nickel shoe seemed a bit tough on my feet and its lower back style was not really catchy to me. The black one Retro was quite supportive and made me walk easily but it was a bit heavier and lacked smoothness for my feet. The third one which I finally bought was Retro High OG Chicago. It had a classy look, good grip and very comfortable cushioning. Overall it was serving me the purpose so I just chose this one.
I really appreciate the sales guy who helped me in selection and made my experience worthwhile. Would love to visit again for some other casual stuff.
You can find out more about them at: http://lacedupchicago.com/contact-us/